Noodle thawing apparatus "Si-Pronto grande"

Only 20 seconds for cooking delicious pasta.Realized Faster Defrosting by Steam and Additional Cost Savings. Of course Pasta,Udon,Soba and Ramen-Noodle,Si -Pronto grande also can thaw and heat up vacuum-packs(Frozen),Frozen rice, and Vegetables!
Responds to varieties of frozen food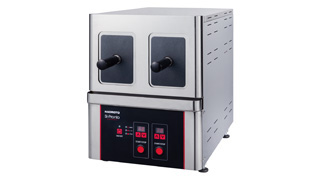 Stainless steel basket

(Titanium basket is optional)
This basket is passed Food Contact Material Examination followed by EU directive.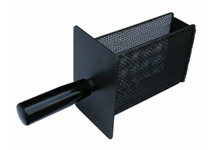 Model

QF-58

Voltage

200V 3ph 50/60Hz

Electric Consumption

6.2kW

Machine dimension

W340xD555xH490mm
(D670 including handle of the basket)

Water Feeding Method

Directly Connecting with faucet

Drainage

Automatic drainage of the steam tank

Weight

40kg(dry)
*The steam generator is installed in the machine body.
*It is necessary to prepare a water softener separately.
*Please consult us to operate for 24 hours.
*Attached noodle baskets passed the Food Contact Material Test that is prescribed by EU directive of 1935/2004.